With all the various forms of consumption coming out, the need for nail care was not prominent. But because of the stagnation of the epidemic, when other forms of consumption were restricted, we suddenly realized that nail art has been so deeply involved in our lives.
Data shows that while colour cosmetics, perfumes and lipsticks have seen short-term demand suppressed due to the epidemic, nail polish has seen counter-trend growth, with sales up 179% year-on-year.
The development of nail art
The earliest recorded history about nail art is in the ancient Egyptian era. People used minerals, insects and berries as ingredients to beautify their nails. A type of henna that could dye the nails a large red colour also earned the name henna.
In China, this physical symbol of power began in the Shang Dynasty in 1600 BC. Yin merchant nobles mixed gum Arabic, gelatin, beeswax and egg white together and rubbed it on their nails, eventually dyeing them a deep red or ebony colour.
The fashion of nail dyeing was already prevalent in the Tang Dynasty. At that time, the main material used was Fenghuang flowers. After crushing the flowers and adding alum, thin silk wool was dipped and dyed on the surface of the nails, and after several iterations, it would stay on for months.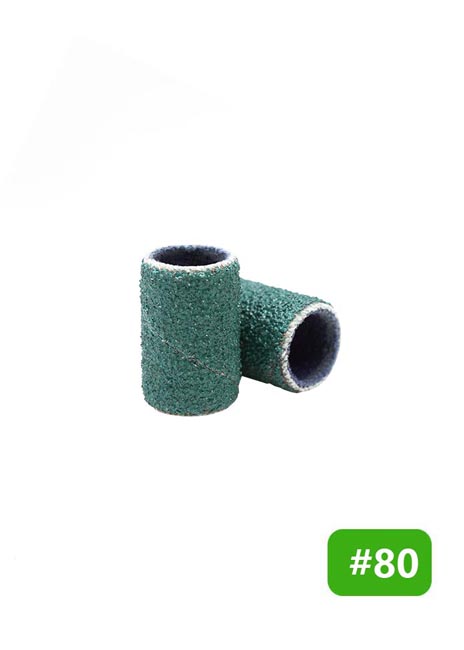 Modern nail art starts in the late Victorian period. At that time, nail art was done by the old-fashioned method of spraying paint. Just as it took many days for a car's paint to dry, it took a whole day for a pair of hands to dry.
It was only with the maturity of car painting technology in the 1920s that nail polish broke away from the monopoly of the aristocracy and gradually became commonplace. Under the aesthetic influence of Hollywood actresses, the idea that "hands are a woman's second face" began to take hold.
Women's magazines have sprung up, discussing how to take care of their nails and hide their real jobs. Ladies have been going into nail salons and going in with coarse hands that look like they've ground beans with their bare hands and walking out just soft and smooth and exquisitely perfect.
The Chiyan Sanding Band is used for removing the nail polish. Not only we use excellent domestic raw material for the brown sanding band, but also we use imported raw materials from Japan for the black and white sanding band and USA Norton for the green sanding band. Its shape is similar to a round tube, and the middle part is hollowed out. Its inner core is purple, no industrial glue, using resin bonding technology. Resin-bonded sanding band ensures that the product is non-toxic and eco-friendly. The glue is equally distributed. No extra glue spilled. No opening. The cut is smooth and has no burrs. It is easy to polish the edges of the nails and easy to handle surface work of the nail.
Features of Chiyan Green Sanding Band
1. High quality Imported abrasive cloth material from the USA.High grinding efficiency and wear-proof.
2. High stability and no clogging.
3. Universal size, easy loading and unloading.
4. Defect rate is lower than 1%.
5.Recommended for disposable use.
If you want to get more information about sanding band price,please contact us.